Hardware Insertion
PennEngineering, headquartered in Danboro, PA and founded in 1942, is a global leader in fastening solutions. PennEngineering companies provide fastener and fastener installation design and product solutions worldwide for diverse industries, including electronics, computer, data/telecom, medical, automotive, marine, aircraft, and general manufacturing.  The Company develops and manufactures PEM® fasteners and PEMSERTER® automatic and manual fastener-installation presses.
PEMSERTER® presses are designed to safely, reliably, accurately, and quickly install PEM fasteners. No matter how complex or simple an installation challenge may be, using the PEM fastener and PEMSERTER press system will provide you with quality results.
Fastener-installation equipment, pioneered by PennEngineering, can deliver a competitive edge. No matter how demanding a job, our systems and expertise provide time-proven solutions.
We rolled out our first PEMSERTER® fastener-insertion press in 1967, which introduced fabricators and OEMs to an entirely new method for installing self-clinching fasteners. The benefits of installation speed, quality, and cost reduction quickly became apparent and remain true to this day.
PEMserter Advantages
Faster than the competition !!
No 3-Phase Power required

Big Energy Savings
Easy to Move around the shop

Superior Safety System

Works with conductive & non-conductive materials (painted, PVC coated, etc.)

Superior Control (Series 2000 & 3000)

Help Screens for Each Function
Multiple Language Capability

Less Complicated Design

Quick & Easy to Set-Up and Operate
Simple and Lower-Cost Maintenance

Local Support
MORE MACHINE for the Money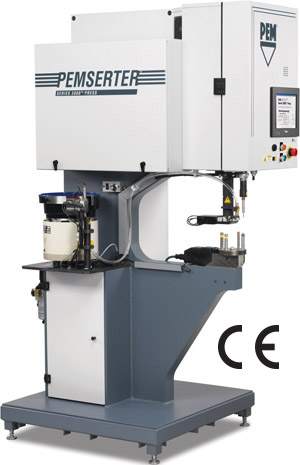 The new PEMSERTER® Series 3000™ automatic feed fastener-installation press can install self-clinching fasteners up to 30% faster than traditional systems to deliver comparable productivity gains. This press provides 8 tons of force and a 24" throat depth and has full servo electromechanical actuation technology to provide significant improvement in operating consistency, improved reliability, increased efficiencies and minimized maintenance. Total elimination of hydraulic fluids provides an environmentally friendly system.
The Series 3000 press introduces "clean" technology without hydraulics to install all types of self-clinching fasteners rapidly, accurately, and permanently. The electromechanical servo drive optimizes ram function to achieve ideal and repeatable speed and force for proper fastener installation.
Among features, PC-based programming interfaces with Windows operating platforms for job versatility and customization. Menu-driven touch-screen controls, descriptive screen alerts, and an on-screen multi-media instructional video contribute to user-friendly operation and quick learning. Data logging capabilities allow for performance monitoring. A patented LIGHTSTREAM® Operator Safety System provides a continuous safeguard by ensuring ram force is applied only to fasteners.
All auto feed tooling used on the Series 2000 press can be used on the Series 3000 press.
PEMSERTER® Series 3000™ Press With Multi-Bowl Set-Up
The PEMSERTER Series 3000™ is also available with a multi-bowl set-up. The Series 3000 MB can install up to four different types and/or sizes of fasteners.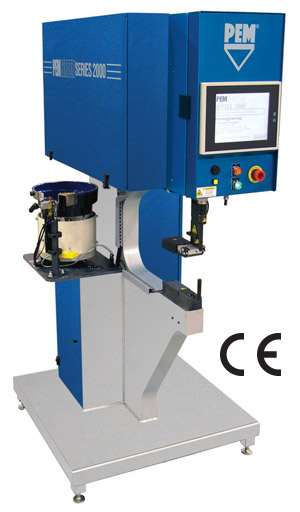 The PEMSERTER® Series 2000® press has established itself as the productivity leader in the world of fastener installation. This press has 8 tons of force and a 24" throat depth. The high speed hydra-pneumatic actuating system delivers insertion speed that cannot be met by other insertion systems and the optional auto-feed capabilities insure that the fasteners are positioned quickly and accurately.
The Series 2000 press utilizes a programmable logic controller and a menu-driven touch screen operator interface system, in eleven available languages. Touch screens allow for quick-run-set-up, easy operator training, and precise fastener installation setups. They automatically alert and direct the operator to any safety or system faults for quick diagnosis.
The Series 2000 press has a unique patented LIGHTSTREAM® Operator Safety System. It is a wireless, fail-safe system that immediately detect when the main ram contacts any object, metallic or non-metallic, that should not be in its path. The LIGHTSTREAM® system provides a fast, precise, and reliable safety system that ensures ram force is only applied to fasteners during installation.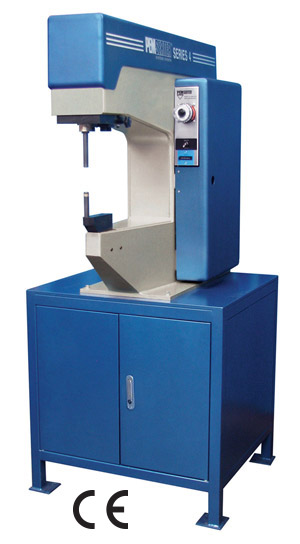 The PEMSERTER® Series 4® press is totally pneumatic providing short cycle time for increased productivity and 6 tons of force and an 18" throat depth which provides clearance for a variety of chassis configurations. It is designed to install self-clinching fasteners in size M2 / #0 thru M10 / 3/8" in steel, and sizes up to M12 / 1/2" in aluminum panels or circuit boards.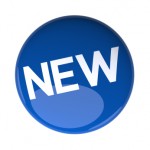 The Series 4 press is now available with Auto-Feed ! Our Auto-Feed machine is less expensive than the other brand's manual machine.