Waterjet
Flow International Corporation is the world leader in the development and manufacture of ultrahighpressure waterjet technology and a leading provider of robotics equipment. Flow provides technologically advanced, environmentally sound solutions to the manufacturing and industrial cleaning markets.
Why consider a waterjet?
The technology is the fastest growing major machine tool process in the world due to its versatility and ease of operation. There are virtually no limits to what waterjets can cut, which is why companies of all kinds and sizes are realizing growth, greater efficiency, and improved productivity by adopting waterjets.
Because there is no heat affected zone, waterjets can cut more materials and eliminate grinding off hardened material and slag.
Waterjets can cut 1/16 inch to 12 inches, or more, of whatever material you choose.
Waterjets allow tight nesting and accurate cutting, improving material utilization.
Waterjets can both replace and complement other machine tool processes.
FLOW OFFERS A FULL CONTINUUM OF PRODUCTS
No matter the application, Flow waterjet systems provide industry-leading technology at every price point. A wide variety of systems and technologies from which to choose allows us to consult with our customers to determine what best fits their needs. Whether featured on TV fabricating custom bikes or extreme all terrain vehicles with tight timelines, an aerospace supplier producing extremely accurate components, or a shop supplying one-off repair parts, Flow has the right system.


The Mach 2 Series combines Flow's premium technology at an affordable price.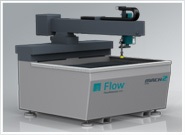 Our Mach 2b waterjet is ideal for abrasive waterjet cutting.  Its robust table allows for more access to your work piece, making loading and unloading your materials easy.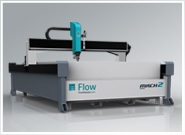 Our Mach 2c waterjet models are the perfect combination of proven performance, robust design, and exceptional price.  The world's most popular waterjet.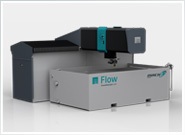 Available in virtually unlimited configurations to suit any need, it's everything you love about Flow waterjets, and more – The Mach 3 series offers unmatched versatility. Every Flow system has been designed, built, and tested to the highest quality standards. Take a look for yourself, and discover why the Mach 3 Series is the waterjet everyone wants to own.

Years Ahead   When you are looking for the waterjet system that surpasses the rest, check out our elite waterjet collection, Flow's Mach 4 Series. Featuring Flow's revolutionary Dynamic Waterjet XD, Mach 4 waterjets allow you to cut virtually any shape faster, and with more precision, including bevel and 3D.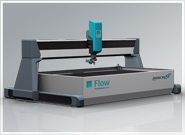 The Mach 4c models are ideal for high-production utilizing up to 4 cutting heads, or low production runs and the high job variations common to just-in-time manufacturing or job shop and contract production environments.   Abrasive waterjet systems excel at three-dimensional cutting, and Flow manufactures a complete line of turnkey systems for cutting complex shapes.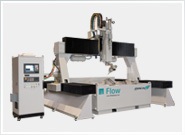 Our Mach 4 AF systems cut with precision accuracy, at speeds up to 400 inches per minute. The Mach 4 Series is the forefront of waterjet technology. Available with all pumps as well as Dynamic Waterjet XD, it brings the benefits of Dynamic Waterjet to multi-axis 3D and beveling. It is the waterjet that is years ahead.
Check out the Mach4 with Dynamic XD cutting the Precision Board product from Coastal Enterprises
PRECISION BOARD PLUS High Density Urethane is a "closed cell" rigid polyurethane product made in a variety of densities for standard and high temperature applications, such as:
Sign Industry
Tooling
Molds
Prototyping / Modeling
Marine
Aerospace
Architectural
Vacuum Forming
Automotive
….. and more