Shears
Atlantic Machine Tools gained a very good reputation in the US with the introduction of the guillotine shear in 1980. During the last 20 years, over 2,000 Atlantic shears have been installed nationwide, making it the most popular machine in today's US market.
A variety of models and configurations are available to fit any requirement.  All shears are hydraulic driven and may be conventionally or CNC controlled. Safety is extremely important, so all machines come with an efficient finger guard in front of the blades and hold-downs and an emergency stop on the control panel.  Light curtain systems are also available, which will guard the back of the shear to guarantee optimum safety for the operator and other employees on the shop floor.
Atlantic HDE
This budget-friendly model comes standard with the SP9 controller, a low-cost yet highly reliable controller for sheet cutting operations. It is easy to program and requires no specific training to operate. Cutting time and blade angle can be set with the push of a button.
Features: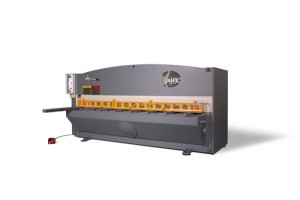 Rated for 1/4″ mild steel or 10GA stainless steel up to 62,000 PSI tensile strength, in 6′ or 10′ lengths

Standard motorized backguage of 39″

Hydraulic sheet hold-downs on separate hydraulic circuit
Standard 40″ squaring arm with scale and tilting front stop
Quick manual blade clearance setting with leveler
Very large oil tank
Atlantic HDS(X)
Guillotine-type shears rated for thicker material with several more options available, in the same easy-to-use package.
Features: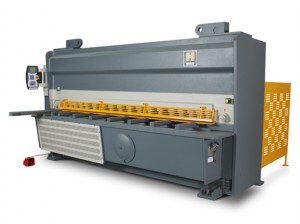 Rated for up to 5/8″ steel up to 80,000 PSI tensile strength.

6′, 10′, or 12′ cutting lengths.
SP9 controller standard, with SC90 controller optional (automatic gauging and setting of rake angle and blade clearance)
Standard motorized backgauge, with a high-speed, swing up, or swing-away versions available on some configurations.
HACO SST
The SST model uses a high-speed swingbeam shear along with two down-acting hydraulic cylinders and two up-acting nitrogen cylinders, allowing for cutting speed to be doubled at lower capacities. All configurations cut up to 10GA steel.
Features: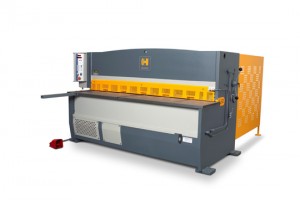 Cutting capacity up to 10GA steel, in 5′, 6′, and 8′ cutting lengths
Solid table
40″ squaring arm with scale and tilting front stop
23.6″ swing-up motorized backgauge accurate to .0004″ on all configurations
Hand valve on the frame allows speed increase
Hydraulic sheet hold-downs with tilting feet and neoprene bottom.
HACO PS
This shear is custom designed and heavy duty, accepting capacities up to 1-1/4″ and lengths up to 20′. It uses two hydraulic cylinders and one nitrogen accumulator. The SC90 controller and CNC control for backgauge, rake angle, blade clearance, and stroke length all comes standard.  A wide range of PS models are available to accommodate specific needs.
Features: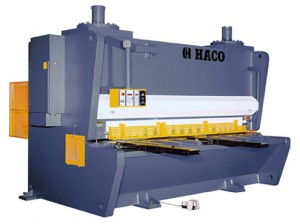 Cutting capacity between 1/4″ and 1-1/4″ steel

Up to 26′ cutting length

Standard side frame gap of 12″, larger gaps available
Heavy duty swing-away backgauge on 5/8″ models and larger
40″ squaring arm with scale and tilting front stop
Various front support arm sizes available
Roller bearings in table blocks available