Press Brakes
The first hydraulic press brake was made by HACO in 1965. Since then, press brakes have changed a lot. Just think about CNC controls and multi-axes backgauge systems or automatic crowning tables. During the past 35 years, HACO gained a lot of experience building these types of machines and is proud to be among the leading manufacturers of press brakes worldwide today. All press brakes are hydraulic driven and range from 45T up to 1,200T, feature conventional or CNC controls, and are also available in tandem and tridem models. 
Precision and Reliability: HACO Atlantic, Synchromaster, and Euromaster
Features: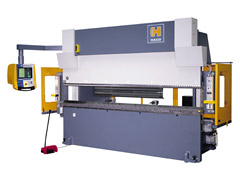 1-2 Axis standard, optional 6 Axis available
45-1,200 Tons
5′-14′ Bending Lengths
.0004″ Bending Accuracy
Integrated mechanical depthstop
Easy to use CNC controller (no special training necessary), 2D and 3D touchscreen controllers available.
Manual or Automatic backguages available.
The Newest Technology: HACO Press Master
Standard Features: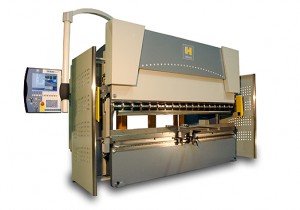 2-6 Axis CNC
45-1,200 Tons
Electro-hydraulic leveling and depth stop setting by SYNCHRO system
BC 59 graphics control with touch screen
All welded interlocked monoblock construction
Downstroking pressbrake with integrated emergency stop
Robosoft Synchro leveling and depth stop system
Automatic compensation of the sideframe deflection by means of table referenced measuring scales, giving feedback to the synchro system
Y1/Y2 hydraulic axes for levelling and depth control (0.01mm).
4-axes X-R-Z1-Z2 backgauge
X-axis: stroke 23.6″ speed 1062 In / Min
R-axis: stroke 5.3″, speed 360 In / Min
Z1-Z2 axis: speed 1470 In / Min
Standard Beak fingers
Upper quick manual clamping for System tooling
CNC controlled Anti Deflection Table for System Tooling
Movable Frontstops Type I along the working length
Saffir Safety Guard, retractable and manually height adjustable
Stroke:13.8″
Gap: 15.7″
Custom Tandem and Tridem Brakes for Long Sheets: HDSY Series
Available Features: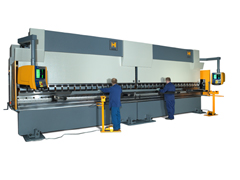 400 – 1,200 Tons

Up to 20′ Bending Length
Mono block, flush floor mount models available
CNC controlled automatic backguage is standard
2 finger blocks, adjustable in height and width and spring-loaded to protect against shock loads.
Multiple control options available, from conventional 3-Axis to 3D CAD Touchscreen.
Custom configurations available